Logical Devices

Figure 13. Logical Devices Tab
Select the Devices tab to create and configure logical devices such as switches, signals, lights and power districts.
What are logical devices?
Logical devices are devices that you can control that represent active physical features on your layout. Examples are switches (points or turnouts if you prefer), signals, lights, turntables, power districts, occupancy detectors, house lighting. What else can you think of? Each logical device has a symbol which can be placed on one or more maps of parts of your layout and used to control a corresponding physical device.
Let's consider a right hand switch. You can create a right hand switch logical device called S1, say, and place it on a map. Somwhere on your layout will be a real switch, fixed to the baseboard that you want your logical switch S1 to represent. How do you associate one with the other? Part of it involves modules and wiring. The other part involves a setting in Tower Operator.
Lets consider the physical part first. First you have to buy one of our WFS-46 or WFS-86 Universal Switch Machine Controllers (or some other, yet to be released product). Then you have to set its little DIP switches correctly for the type of physical switch you are using. E.g. Tortoise stall motor machines need a different setting to Peco twin-coil. Next you need to install the controller somewhere suitable on your layout, near to the switches it will control. Then you have to wire the screw terminals to the connections of your switch machines.
This is all described clearly in the Quick Start leaflet for each type of module.
Finally, there's the settings in Tower Operator: you have to associate the control points of your logical device S1 with a sitch machine capability - i.e. one of the WFS-46's channels. So that's the theory and in the following we'll go through how you do this in Tower Operator.
Creating a Simple Logical Device

Figure 14. New Logical Device Button
To create a new logical device, click or tap the New Device button.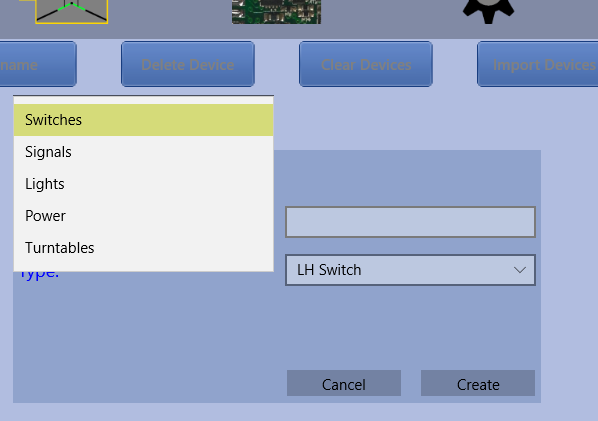 Figure 15. Select the Logical Device Category
Select the required category, then select the type.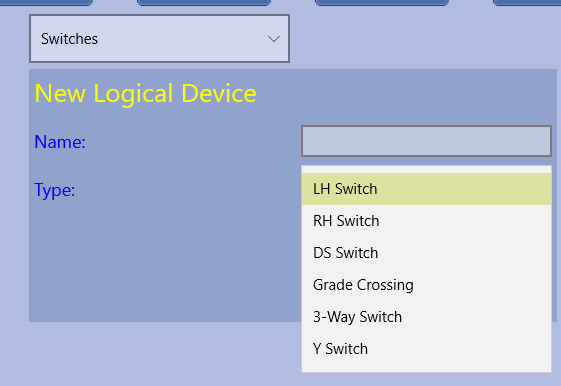 Figure 16. Select the Logical Device Type
There are quite a few logical device types defined in Tower Operator, including many kinds of switches and crossings including 3-Way Switch and Double Slip Switch. There are also various types of signals, lights, power districts and turntables. More logical device types will be added in future upgrades of Tower Operator.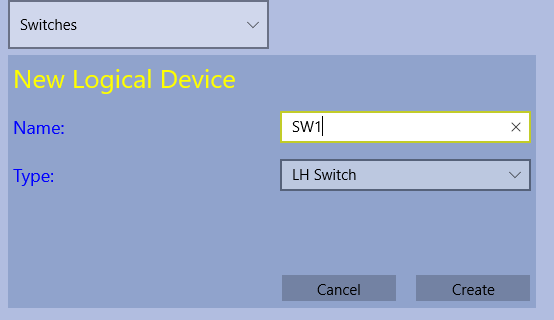 Figure 17. Type the Logical Device Name
Type a name for the logical device, then click Create.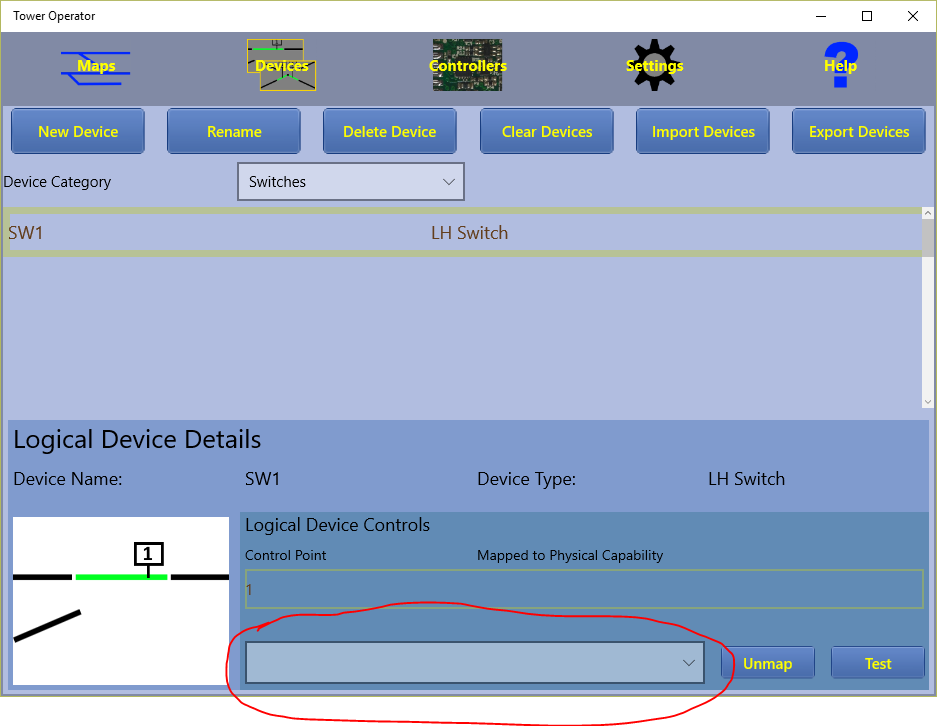 Figure 18. New Logical Device
Assigning Controller Capabilities to a Simple Logical Device
The Devices screen shows the new device. At the bottom of the screen is the detail pane for the selected device. It contains basic information at the top. To the bottom left is a schematic image of the device showing any control points that it has which are numbered. In this case there is one control point, the tie bar labeled "1". This corresponds to a row in the Logical Device Controls list to the right of the image. Initially, there is nothing in the "Mapped to Physical Capability" column. This means that there is no physical controller capability assigned to this control point.
To correct this, click on the Available Capabilities drop-down as circled in red above and select a capability to implement the tie bar control point.

Figure 19. Select the Controller Capability
The figure above shows that we have quite a few to choose from here. We'll choose the first one.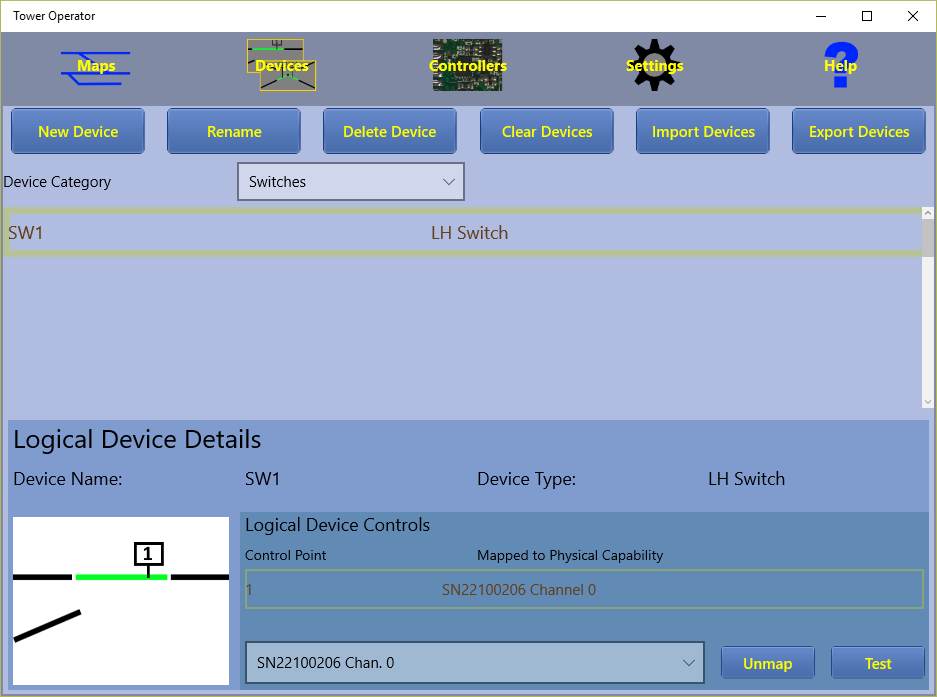 Figure 20. Completed Device
The screen now shows the fully configured left hand switch. We can test this by clicking the Test button to the right. This should make the switch's tie bar operate.
A More Complicated Logical Device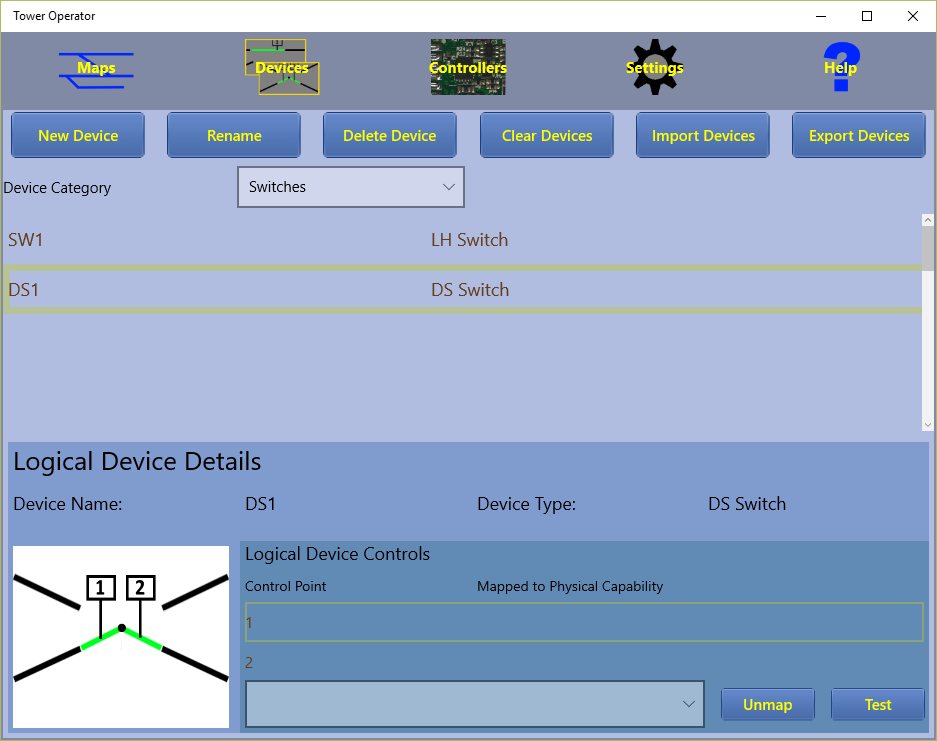 Figure 21. Double Slip Switch Device
The screen above shows a more complicated switch, a double slip switch. The schematic image on the left shows that there are two control points - two tie bars - that need to be assigned to controller capabilities and the Logical Device Controls list now has two entries both of which need to be assigned.

Figure 22. Double Slip Switch Device Fully Assigned
These can be assigned to two more channels of the same controller as shown above. Using the Test button should cycle through all four states of the double slip switch. To check it properly, you need to place it on a map since the images here do not change. In fact you may need to change some wiring or reverse the capabilies on the Controllers screen to get the physical position to match the symbol shown on the map.
Operating Switches Together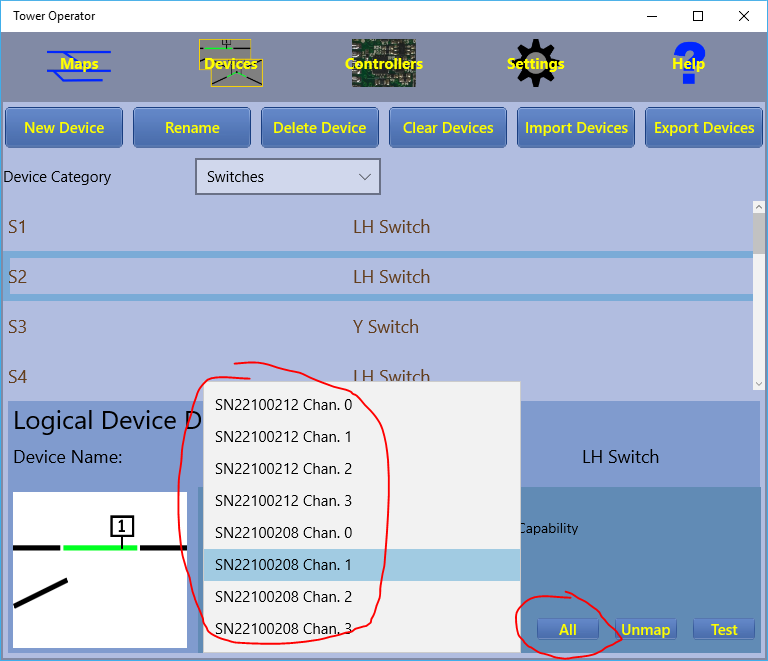 Figure 23. Displaying All Capabilities instead of Spare Capabilities (Version 2.0)
Sometimes there are cases in your track design where you always operate two or more switches together. One obvious case is a crossover between two parallel tracks. There's no sense in throwing one switch without the other! WifiTrax Switch Machine Controllers are all powerful enough to operate two switch machines at the same time. In many cases, they will operate more than two - certainly stall motor machines will be no trouble. Version 2.0 of Tower Operator provides a means of assigning a controller channel to a control point of more than one logical device.
Normally, the Available Capabilities drop-down list only shows those controller channels that are NOT already assigned - "Spare" capabilities. However if you click the button just to the right that normally shows "Spare", it will toggle to "All" so that all the capabilities (controller channels suitable for switch machines) will be available for selection. Then, once you have chosen an unused capability for the first switch machine of your crossover, you can change to "All" and select the same capability for the second switch machine.
Then, when you have made your crossover on your map, you can be sure that when you click or tap one switch, the other will change as well both on your map and on your layout.
Power Districts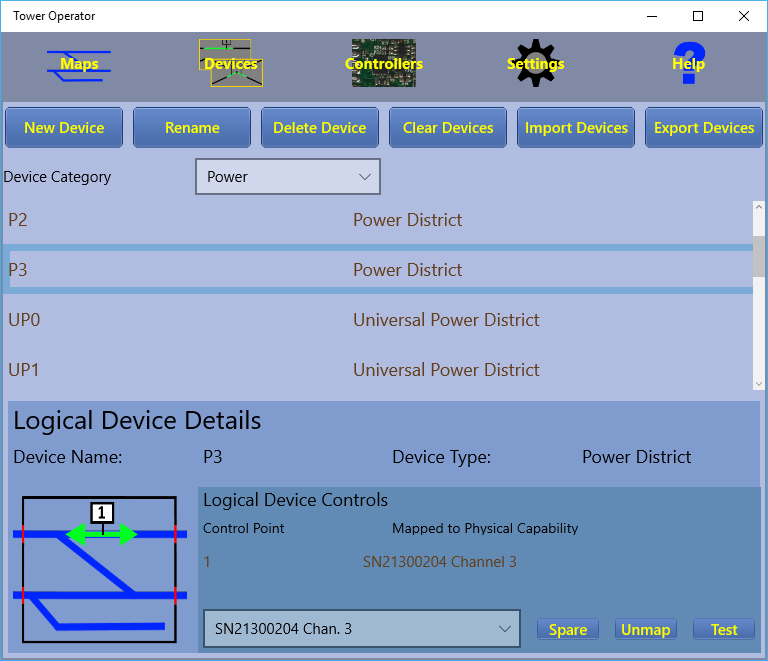 Figure 19. Power Districts on the Logical Devices List (Version 2.0)
In Tower Operator Version 2.0, the Power Category of logical devices includes two types of Power District or Power Block - we use the terms interchangeably, "Power District" and "Universal Power District". The first type controls power to a double-isolated section of track. The logical device will appear on your maps as a red box that can be adjusted to enclose a part of your track plan. You should adjust the boundaries on your map to correspond approximately to the the gaps in your track. The positioning of the boundaries is only to remind you and has no other function. When included in your map, and connected with power on, the Power District will indicate the presence of a locomotive and the current being drawn. It will allow you to reverse its electrical polarity (direction) and turn it off. It will also shut down if an overload is detected and automatically reverse as a locomotive goes over gaps between districts whose directions are opposed. This allows for return loops, wyes and turntables.
The second type, Universal Power District is central to WifiTrax Wi-Fi DC technology and can be mapped to a channel on a module such as the WUFP-47. It provides the same features as the ordinary Power District, but also provides the ability to drive a DC locomotive within it. Once you have a Universal Power District on your map, you can click on it's control buttons to select 4 modes: WifiTrax, Chan A DC, Chan B DC or External DCC.
In the WifiTrax (WFX) mode, DC is applied to the track in the power district. This allows you to drive locomotives equiped with WifiTrax decoders using our Loco Operator app. You have the full benefit of auto-reverse for return loops.
In the Chan A DC (CHA) mode, pulse width modulated (PWM) power is applied to the track and the back e.m.f. of the motor is monitored by the electronic module. A driving capability appears on your Wi-Fi network just like a WifiTrax equiped locomotive. The difference is that it drives whatever DC loco is present on the track. You can use the Loco Operator app to drive the locomotive by selecting Chan A of the hardware module. Note that in Chan A or B DC mode, the Auto-Reverse feature may not always work. This is because the PWM voltage to DC locomotives varies and may not be sufficient to trigger the auto-reverse capability reliably. You may therefore have to reverse blocks manually as a DC locomotive traverses a return loop.
In the Chan B DC (CHB) mode is the same as Chan A DC except that it connects the B channel of the module to the track, so you drive by selecting the B channel in Loco Operator. If you use a WUFP-47, there are four power block channels, so you can be driving two locomotives together by assigning some blocks to Chan A DC and some to Chan B DC. This feature will be developed further in later versions of Tower Operator and Loco Operator so that you can use more than one module such as WUFP-47.
In the External DCC (EXT) mode, you can connect your DCC Command Controller or Booster to the External inputs on your WUFP-47 or similar module. You can then drive locomotives equiped with DCC decoders on the track within the district. You have the full benefit of auto-reverse for return loops.
You can create Power Districts using the New Device dialog, selecting the Power category and the type of Power District you require.